Shopping Cart
Your Cart is Empty
There was an error with PayPal
Click here to try again
Thank you for your business!
You should be receiving an order confirmation from Paypal shortly.
Exit Shopping Cart
The man who has walked and still is, the Peak District, Britain, Europe and the World.
"Hiking the sacred paths and trails of the world for others to follow".
"For every mile that you walk, you extend your life by 21 mins."
It was while on a cycle ride from London to Paris, that my route took me past High Rocks and onto Royal Tunbridge Wells. I almost fell of the bike at seeing High Rocks, so reminiscent of the gritstone outcrops of the Peak District and places like Armscliff Crag in Yorkshire, where I learnt to climb. I knew Harrisons Rocks were a southern climbing edge but didn't realise they were part of the same sandstone vein that passes through this area. Back in the office I pulled out my maps looked where Harrisons Rocks was - close to High Rocks! That's it, I thought next weekend I will walk there and discover the area and do a challenge walk.
So, I set off from Royal Tunbridge Wells and headed to Frant, a lofty place with extensive views. Then on through woodland and past lakes to look down on Bowles Rocks. I remember seeing adverts for this climbing ground and centre in early 1970's  Outdoor magazines.  There is now a dry ski slope and several skiers were in action; will bring my short skis next time! I pressed on towards Groombridge but the early January daylight was fading and by sheer chance caught a bus back to Royal Tunbridge Wells, as the light faded. I returned to Groombridge the next day and retraced my steps so that I could explore Penns Rocks. This area was likewise like the Peak District with dales, twinkling streams and rolling sheep filled countryside, but uncharacteristically, Oast House's!.
A mile later I was approaching Harrisons Rocks which reminded me of Froggatt Edge and the many climbs I had done there. Only a couple of climbers about, top roping easy chimneys. I sat nearby enjoying the solitude with the rock face beside me and the northern boulder opposite. Again time and daylight were a factor and I couldn't linger too long and pressed onto Groombridge and the stunning moat surrounding Groombridge Place. Three miles later I reached High Rocks and paid my admission fee to wander around these sandstone rocks and pinnacles; some linked my bridges. I walked on and  through Freizland Wood (Woodland Trust) past more sandstone rocks as I headed back towards Royal Tunbridge Wells.
The walk and area were a walk down memory lane, for me, and amazed that there is a "southern" Peak District closeby here in East Sussex. Incredibly the route passes close to a Dovedale Farm! I shall come back as I have already walked the Wealdway, not realising what lay just off the route. So if you can't get to the Peak District this is an admirable alternative and see several places where our early Everest climbers learnt their craft…….Enjoy!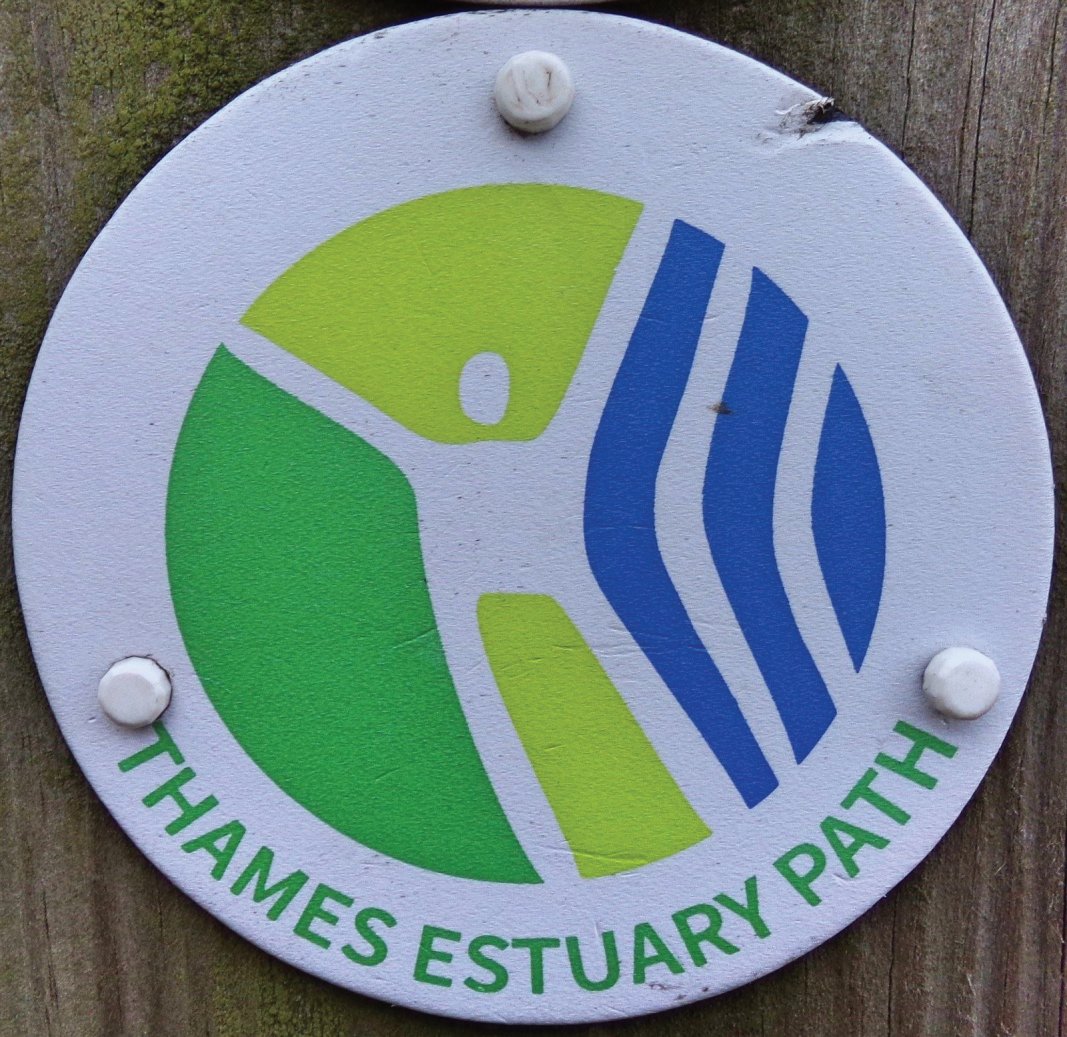 I had purposefully ended the Essex Coast Walk at Benfleet, for to me that was the end of the "coastline", although not the end of Essex. I knew from previous walks the paths beyond were not reliable as one began entering the London environment and the world of shipping commerce. However a few weeks after this book was published an Essex walker contacted me and said five of them had walked the Essex coast from Rainham to Manningtree - basically border to border, meaning I had left out the section along the Thames Estuary.
For the sake of completeness, I walked the section from Benfleet to Rainham, first using the Thames Estuary Path - 29 miles - Benfleet to Tilbury. This I followed with great difficulty for the route differs from what is shown on the maps on the website. Plus the signage is not consistence and is missing in some key junctions and in several places the sign posts have been turned round, pointing in the wrong direction! As the route was not marked on the OS map I had to rely on the signs to follow the route. Finally near the end at Tilbury the path is flooded at high tide. There are no signs or logo's at this point, nor any information that the path can be flooded, on the ground or website.
So what should have been an easy two day walk took four days to decipher the route and make sense of it all, so I could write authoritatively about it. The section from Tilbury to Grays is road walking and  from Grays to Rainham is clear and straightforward along tarmaced paths, part of the London Loop. To complete the picture I pressed on from Rainham to Tower Bridge, although mostly road walking it did complete the walk to London and retrace my steps I took 40 years ago.
Having said all that there are some nice places along the Thames Estuary, a great contrast to the Essex coast, but still with seaweed on the shore. Twice you walk along the earth sea wall, recalling the best of the Essex coast. There are Nature Reserves, forts and the ever busy container and cruise ships on the river. Aptly, Tilbury has the inn - World's End - beside the path!
WALKING AROUND THE ESSEX COASTLINE - NEW BOOK
A year ago this began as a simple walking project, which I thought would be completed in a few weeks. How wrong I was! Partly this was due to fact I hadn't time to do it as a continuous walk, because of other walking commitments, here and abroad. It meant going out once a week and continuing on from where I left off. However as you will read, this did not go to plan because of rail works and infrequent buses. But it was all good fun and allowed me to more fully appreciate the Essex coastline over the seasons.
The walking was eventually spread over a year and when a fellow walker pointed out 2018 would be the 40th anniversary of the British Coastal Walk, it seemed most apt to make this part of the celebration. So, I have endeavoured to tell the story of my walk and then detailed walking instructions to follow in my footsteps. At the end are the Essex extracts from my book - Turn right at Land's End.
Essex was the last county on my walk and quite by accident I started the same-day as forty years ago and ended a year later on the anniversary day. It was all meant to be. As the day's stages progressed I became more and more addicted to the remote beauty of the Essex coastline. In-between days on the coast, I missed being there, hearing the birds and walking the seawall in solitude. I realised that Essex, which has the second longest coastline of any English county, is the complete opposite to the west coast of Scotland. Very much the ying and yang of Britain. Scotland has much remote landscape, high mountains, sea birds in profusion, sea lochs that often take several days to walk round to be opposite where your were, and has a multitude of islands. Essex has considerable remote coastline, mostly along seawalls started 500 years ago. It is flat and low lying and in many places only a few feet above sea level; there are no mountains or sea cliffs. Instead it has many coastal river creeks which, like Scotland, you walk around and after a couple of days you are opposite where you were. Essex too has a large population of sea birds, waders and geese and incredibly you pass numerous islands, many uninhabited.
There was never a dull day as I walked round. Reaching Harwich the first day was a delightful walk and a curtain raiser. Then to Walton on Naze, passing several islands. Then the seaside resort of Clacton-on-Sea and its numerous beach huts, before walking inland around coastal creeks to Colchester. There was no seawall from here and I had no option to walk inland but this came as a surprise as I walked through England's major earthquake zone, near Mersea Island. Then back to seawall and the long but beautiful walk to Maldon and its Thames barges. All the time the two large buildings of Bradwell Power Station dominated the views and never seemed to be getting closer! But eventually I reached them and the Dengie Peninsula and St, Cedd's Chapel - St. Peter on the wall. This has played a key role in my life and was where I slept the night before I was ordained as a Multi-Faith minister. The Dengie Peninsula is a committing walk, for there is basically no alternative to Burnham-on-Crouch. But the remote walking is not over with for several days, via South Woodham Ferrers, Battlebridge and onto Shoeburyness. For a few days the tower blocks of Southend-on-Sea line the horizon and at one point Southend-on-Sea is 4 miles away, but for the coast walker more than 25 miles! Then the final day through Southend-on-Sea, passing beach huts and longest pleasure pier in the world, before back to the seawall to South Benfleet and Canvey Island and the outskirts of London.
There is little accommodation along the coast, apart from the key seaside and towns centres and was one of the reasons why I did it in stages. This also allowed me time to research the section I had walked and to reflect on walk. There is a good regular train system linking to London Liverpool Street Station and a bus service to most places on the coast. I include a full details for each stage. My walking plan, like my original coast walk was to use the nearest right of way to the coast be it a path or road; most is along a good path along the seawall. As I walked through the seasons I saw a wide variety of bird life, from nesting birds to wintering birds. Everyday I saw and surprised a little egret. And, surprisingly apart from the occasional dog walker I had the seawall to myself, and it never rained!!
So, 40 years on I was back walking my last county, following my early footsteps with time to appreciate more fully the extraordinary variety and beauty of Essex's coastline. I am more than delighted to have trodden it again, although I have walked different parts over the years. I made a list of places to come back to and top of my list is the Roach Valley Way for its history and folklore which I knew nothing about. I have walked and explored many of the islands of Essex, but now have more to explore and canoe to; the exploration and discovery never ends.
Grab your boots and pack and set off and discover for yourself the remote and absorbing coastline of Essex; this is one walk you will be proud to complete.
ISBN 978-0-9958902-5
A5 Wire bound. 224 pages. 25 maps. 150 photograghs.
John Merrill is available to give illustrated talks on this walk.
Further detailes from - 
Revd. John N. Merrill
THE JOHN MERRILL FOUNDATION,
Waltham Cross.
Hertfordshire.
EN8 8QY
Tel. 01992 - 762776
February 7th. 2018
WALKING TO MONT ST. MICHEL
- Caen to Mont St.Michel
September 23rd. - 29th. 2017
with the Association Les Chemins du Mont-Saint-Michel.
This is an annual walk from different start points each year, arriving on September 29th, the feast day of St. Michael.
Having walked from Farnham via Winchester, Plymouth, Cherbourg to Mont St. Michel in 2016, I joined the Association and when I learnt that they had an annual walk to Mont St. Michel I knew I had to join them. I had never walked with others before and my French is very limited, despite my mother being a French teacher; I was the disgrace of the family!
However my schedule was very complete so I kept putting off securing a place, but then, as always happens a gap in my schedule opened up and was just the same period as the walk! I had funeral services to conduct before and after but that specified week was clear. It was simply telling me to go. I had no idea what to expect and being so busy didn't really look at the walks schedule. Although I knew we met at St. Michael's church in Caen at 2.15pm. on the 23rd. So, the week before the walk I booked the overnight ferry from Plymouth and enjoyed a comfy sleep on the lounge floor, arriving at 6am at Ouistreham, on the coast 15 km from Caen. I looked for a bus but they were infrequent and walked away from the ship, aptly named Mont St. Michel, found a bar and had Petite Dejeneur and a large Cafe au Lait; I was back in France!
Some cyclists, who were cycling from London to Paris for Charity sped by and I noticed their route. Refreshed I went outside and found their signed cycleyway - 15 km to Caen. Rather than wait for a bus I set off along the cycleway beside the canal to Caen. It was all well signed and off road walking passing a few fisherman, yachts on the canal and the occasional cyclist. The sun shone and reached 25C, so was glad I was just in a T shirt and shorts with a light loaded (10 kilos) 45L rucksack. After 6km I came to a surprise, the famed Pegasus Bridge that was a major story of the D Day landings and a Hollywood film. Nearby I did my half hour Qigong session. Two hours later I walked into the historic centre of Caen and saw many church spires. Rather than asking I just followed my nose to a prominent church but it was not the right one - St. Peter's. I spotted other spires nearby but not St. Michaels, - St. Nicholas and St. Andrew! I had to admit defeat and walked into the Tourist Office and they gave me a map where it was, 2 km's away! I found it and then went back to Pizza restaurant I had passed and enjoyed a fine glass of Bordeaux wine and a really mouthwatering pizza.
Nearing the appointed hour I retraced my steps back to St. Michael's Church and found some forty pilgrim's there. I checked in and visited the church to see St. Michael's statue and others. I said Bonjour to the others and congregated on the steps as more pilgrims arrived. We all bought a pilgrim stamp book to collect the stamps along the way before sitting on the steps for a group photo. Then, as the day's pattern would unfold we all walked into the church to learn its history and to go through the day's itinerary. Ofcourse it was all in French but I understood some but much went over my head. As the days progressed I understood and spoke more; another week and I would be quite fluent; my mother would be pleased!
We then set off to visit many of Caen's churches, which I had already past and seen! and then onto our lodgings for the night. Just round from the church we passed a sex toy shop; such is life! After 4 hours and many churches we reached our overnight halt in an Institute. Our dormitory was on the fifth floor and dinner was on the ground floor! The food was good and a great cheer went up when one of the organiser's brought two cartons of red wine - pilgrim's blood. We all went to bed early for we had to be up at 6.30am with breakfast (Petite Dejeuneur) at 7am. Everyone had their suitcases outside ready to be transported to the next night's accommodation. I didn't join in for I carried all my gear the whole way. I also spotted most were using walking poles; again I don't use them, they are for old people! With walking from the ferry terminus to Caen I would be walking coast to coast as well. Nothing like a mad Englishman, but I was doing it the "Pure Way".
Everyone got lifts or a ride in the van or cars back to St. Michael's church, but I didn't, I walked there taking a French Belgium pilgrim along for company, he could speak English! I told him I knew the way and did because of my wanderings yesterday. We all met on the steps of the church where the Mayor of Caen and Vice President of the area gave speeches and wished us good walking. We presented him with a brass St. Michel walk logo and we all posed on the steps for a group photo. There were now 75 of us. Soon we were walking along the streets of Caen into the countryside, a long waving caterpillar of pilgrims stretching into the distance. I hovered around the middle and attempted to introduce myself in faltering French. All was fine until we had to walk on roads to the next footpath. I was always taught to walk facing the oncoming traffic but this is not correct in France. You walk with your back to the oncoming traffic. I was repeatedly told "A droit" (keep right). After two days of this I went to the back marker, who had told me off, and said my name was no longer John, but, a droit! She howled with laughter and we became firm friends after that!
After three churches and a history in each one we came to to our Picnic spot, a school playground. Here the team handed out sandwich baguettes, cake, drinks and a banana. Soon the red wine carton came round, but I didn't have a cup! This was the daily routine for the walk. While they were eating I moved to a grassy area and did my Qigong Bang routine, which I had to do each day for 100 days. If I missed a day I would have to start at Day One again. Afterwards several came up-to me to ask if I would teach them, so 20 mins at lunchtime were set aside for short lesson.
Then we were on the move again for another 4 hours of walking and three more churches, all with links to St. Michael. By evening we were in a gite near Evercy. One massive dorm for the men. Just time for a quick cold shower then into the reception area for drinks with the Mayor - white wine from the Alsace - before sitting down to a splendid three course meal. The organisers brought me my own carafe of red wine, everyone else had rose.
We did't have to leave until 8am so I had time in the early light to do my Qigong Bang routine before breakfast, which would allow time for the "class" at lunchtime. Then the cases were loaded up and we set off again, following another Mayor's speech and good walking! It was a full programme as well as walking 16 or miles a day. Thankfully there were only two churches this day, not that I wasn't interested in them; I can read a church and having explored ten's of thousands of them, I know what to look for. But having everything explained in French, after several during the day I was a little "brain" dead!
And so the days progressed as different people joined us for the day and were shipped back to their cars at the end. As a group we knitted together well and although I knew few names I recognised their faces. One made me speak French every morning and I had to expand and say more everyday to get his approval. It wasn't just the simple words like Bonjour (Good day) or ca va (alright), I had to comment on the weather, whether is was hot or cold.
On our third day we came to Villedieu Les Poeles with a very fine church - another talk, but with a bell foundry nearby. Alas we only walked past it but it reminded me of the one in Whitechapel in London. Again we had a Mayor's welcome and a second breakfast. The local press appeared and more photographs of the group and I was interviewed, since I had come specially to do the walk from England. As the day progressed a local Normandy TV Station film crew arrived and made a news story of our journey.
Our final night was in a Youth Hostel, the former railway station at Genets close to where we would across the exposed sand, mud and rivers, to Mont St. Michel, 7 kms away. By the church was labyrinth outlined with scalloped shells and I was the only one to walk it. I had been in Chartres Cathedral a month ago and seen the one there. The Mayor's reception was Champagne and a restaurant in the village was splendidly decked out for a stunning meal. By now I had earnt myself the praise of being a wine connoisseur and was given the wine list. I chose a red wine from Languedoc and once the ones around me had sampled it, they all agreed it was an excellent choice and one bottle - 28 euro's - was not enough!
The final day. We waited for the Mayor and had our pilgrim passports stamped and we walked 5 km around the shore to the starting place for the walk across the sands. You can only cross at low tide and need a guide for it is dangerous with quick sand and deep river channels. The tide comes in at a fast pace and you cannot outpace it if caught. We waited around for awhile and I couldn't understand why, but it was soon revealed that a French TV crew wanted to film our crossing. Most had taken off their boots to walk across in bare-feet but I kept mine on until we reached start of the crossing. The President of the Association came to me and asked if I would carry the flag across and lead the party. I was stunned at such an honour and accepted. And so we set off walking across hard ripples of sand, squashy mud, a couple of rivers in calf high water and reasonably warm. Then the main river channel with a drop in the middle up-to your thighs, before climbing out the other side. As we walked the film crews dashed around getting their shots and a camera drone took to the air for aerial shots.
After two hours we reach Mont St. Michel and began washing the sand and mud off our legs. The President came to me and said the film crew wanted me to walk the last bit again as I had walked too quickly! So back I went before sitting on the walls having our last picnic. We were due in St. Michael's church for Benediction in an hour, so I walked around the walls carrying the flag before going to the service.
After six days of comradeship I wasn't looking forward to saying goodbye. I did secure a room for the night but eventually realised I didn't have time as I had messages asking me to do three funerals three days ahead. I knew I would be fighting time and needed to get back to London urgently. So with a heavy heart I walked out and saw no-one to say goodbye to and walked the 9km in the rain to Pontorson and the train to Caen and the ferry to Portsmouth. Again I took the overnight ferry and was back in London at 11am, the next day and started sorting the services out that afternoon. I felt out of place in my shorts and T shirt and bare feet but only when necessary did I put long trousers and a shirt on or robes. Then back home I was in shorts etc again.
Now a week later I am still in shorts and still trying to come to terms with the very deep and meaningful walk. So much happened over those few days, so many memorable moments which have literally changed my life. I took 248 photo's and these are great memory prodders and I can transport myself back to those days of walking along sunken bridleways, exploring churches, meeting mayors, and sampling a variety of wines and enjoying French life. Where I go from here I am not sure. I am struggling to find anything to equal the experience. Yes I want to walk to Mont St. Michel again and am seriously considering the walk from the foot of Italy to there and onto St. Michael's Mount in Cornwall, thereby joining the three sites together. And come September 23rd next year I could well be there walking another route to Mont St. Michel with the Association. Thank you is not enough.
Revd. John N. Merrill - October 5th. 2017.
At last after the walk file sitting on my desk in the pile of walks to do, for 14 years!, I set off in the morning to walk to Mont St. Michel - 180 miles. I am doing St. Swithin's Way first from Farnham to Winchester then on along the pilgrimage route to Portsmouth, and across to Cherbourg and the 127 mile walk to Mont. St. Michel. I have been there many times but never on foot.
Bon Camino and Happy walking!

STORT VALLEY WAY - To celebrate my young birthday, yesterday, I walked the supposed 28 mile Stort Valley Way in Essex, from Roydon. A beautiful day, first beside the River Stort Navigation for 8 miles to Sawbridgeworth, then to many small attractive villages - Matching, Matching Tye, edge of Harlow, Naezing and back to Roydon. I clocked with GPS 33 miles! I was walking by 7.45am and fininshed twelve hours later. Although I had walked different sections on different walks, I had not done it one go ......... glad I did. Surprisingly I saw no one all day!
Over Bank Holiday I shall be walking the Jubilee Walkway in London - 60km - again never walked it its own right, only in stages. 
Below are a few photos from the walk.
SAXON SHORE WAY- SAY FIVE - 22 miles - Lovely remote walk from Herne Bay across Kent via the River Stour to Sandwich. Now back near the coast, as I press on tomorrow via Deal to Dover - more than 23 miles. Saw no one, just a lovely sunny day and a lone cormorant on a pole.
28/3/2014 - Currently walking the Saxon Shore Way - 160 miles from Gravesend around the Kent Coast. First walked it on my walk around the coast of Britain. It is good to see the places again and how little has changed. Saw avocets, shelduck, curlew and oystercatchers today. Now reached Herne Bay - the true start of the coast from London and the Thames. Now pressing on to Sandwich, Dover and Hastings. Lovely weather -T shirt and shorts!!! Happy walking! John.
Another great walk from Dartford along the Thames to Greenwich - 24 miles. Made it as the sun set. Greenwich was busy with fairy lights and the indoor market was full of circular balls of lights - looked great.
7/12/2013 - Caught the bus to Buntingford and did a 22 mile walk to Mill End, Anstey, Buckland, Cotterill, Throcking and back to Buntingford...beautiful weather, sun shining, and reached Buntingford as the light faded...another great day in Hertfordshire - saw no other walkers!!!
/